Speak Up: What Was Learned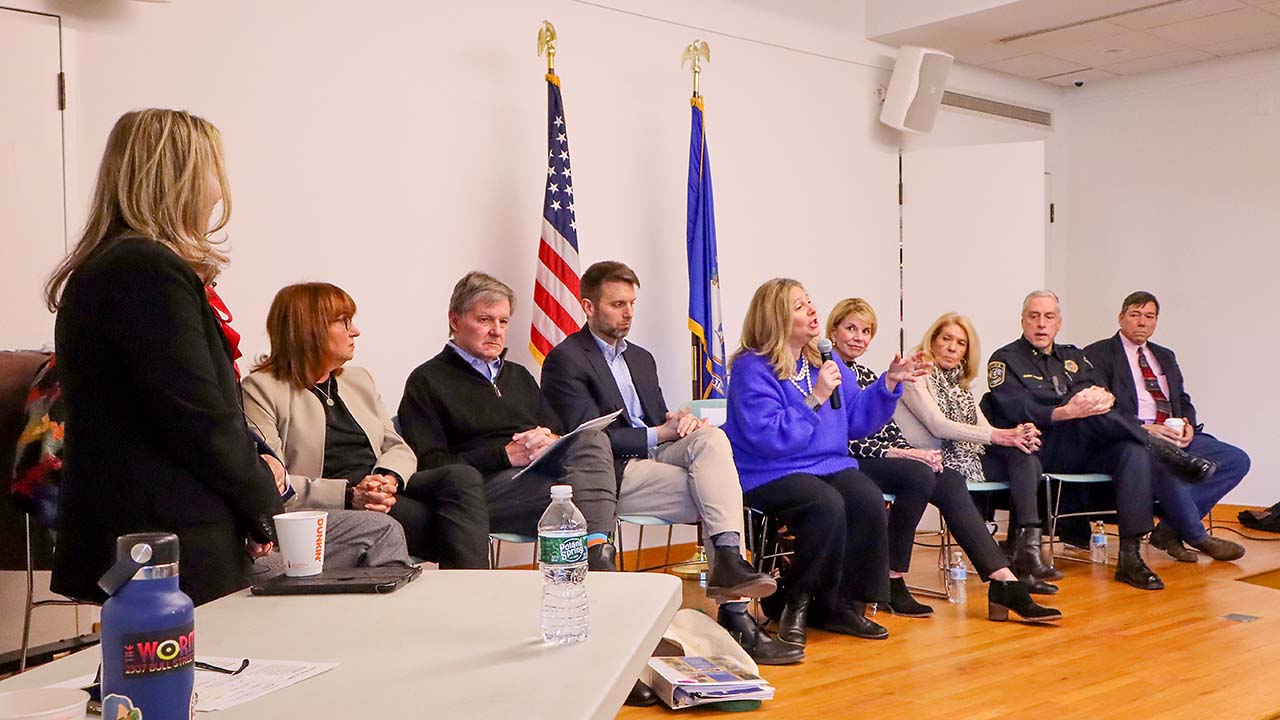 Photo: Namuk Cho
The Weston League of Women Voters "Speak Up" program on Saturday, running both in person and on Zoom, covered a number of topics raised by attendees and addressed by Town and school district leaders.
In no particular order, here is a synopsis:
Facilities
With 20-year bonds nearly paid off, Board of Finance chair Michael Imber said nothing has been decided about future bonding for major improvements to Town and school facilities. He said no decisions will be made for quite some time.
Now that the work of the Facility Optimization Committee is complete, he explained, it is up to the Board of Education to come back with a proposal for school improvements. The Town must do the same for its facilities.
Concurrently, the Board of Finance has been working to assess what the town can afford. Mr. Imber cited ongoing work by now-vice chair Rone Baldwin on a 20-year projection model.
Mr. Imber said he expects input from the Board of Education "maybe by the end of the year." Steve Ezzes, the school board chair, emphasized the "maybe."
This, said Mr. Imber, makes it likely that June of 2024 is the earliest date applications could be made to the state for funding. Final decisions about projects, costs, and bonding would be made some time after that and proposed to voters. Add another year if an application cannot be made in June of 2024.
The Senior Center
The Weston Senior Center has a new director, Rose Cruz. The center is not closing and never was. It is also not going to be regionalized, even though to an extent it already is.
Selectwoman Amy Jenner tried to clarify a statement she made at a Board meeting in January, when she mused that it might be better to look at regionalizing the Senior Center before hiring a new director.
Concern spread that such a move would mean the center would have to close due to the absence of staff for however long it took to explore regionalization.
Ms. Jenner said she really was talking about sharing services and that she since has learned that seniors in other towns can use Weston's Senior Center and vice versa. "There is a lot of sharing going on already," she said.
First Selectwoman Samantha Nestor said decisions about the future home of the Senior Center, assuming it does not stay where it is, pend development of a "long-term view of the facilities plan."
The dog park
At the moment, plans for a dog park are being contested in Superior Court and with the state's Commission on Human Rights and Opportunities, where a complaint contends that the park, as designed, would not be compliant with the Americans with Disabilities Act.
First Selectwoman Nestor said she hopes for a Superior Court hearing in April and that the CHRO issue is being mediated.
Gathering
Places where the community can gather and socialize came up a few times in the discussion, including whether the town should have a dedicated teen center. Ms. Nestor said there were no plans for the latter.
The First Selectwoman said ARPA grants filled out the funds needed for the Town Green and that the amenity should be ready in time for Founders Day in October. She also said plans are underway for pickleball courts.
Kirby Brendsel, a trustee of the Weston History & Culture Center, reminded attendees of the opportunity provided by the Center for community events. The Center was formerly known as the Weston Historical Society.
Cobbs Mill Inn
"It's a private matter," said Town Administrator Jonathan Luiz, responding to a question and rumors about the status of the Inn.
Planning and Zoning Commission chair Sally Korsh said the commission has seen drawings, but as yet, no formal application has been made to P&Z by the new owner.
Speed
"Is there any way to remind people there are speed limits?" asked one attendee.
Police Chief Ed Henion said, "it's a problem everywhere." He said Weston Police have increased traffic enforcement posts and that a new grant provides for more. The police have also obtained more speed trailers (one a gift from a resident).
The chief also said the state Department of Transportation has been asked to take a look at Routes 57 and 53 to evaluate signage, speed limits, and passing lanes.
He also told the story of a driver who sped past him, in his marked police cruiser, twice.
Mental health
Concerns about mental health, especially that of young people, are being addressed in what Schools Superintendent Lisa Barbiero described as a "multi-pronged approach" that must be "strategic and planful."
Ms. Barbiero described the district's "robust" counseling staff, college and career counselors, psychologists, and social workers. She says the district plans to do more in collaboration with the Town's Youth Services function.
That function, said the First Selectwoman, was recently enhanced with the hiring of a Family and Youth Services social worker. She said the Town takes the mental health crisis "very seriously," and has recently partnered with Wilton and Westport for a Positive Directions program.
School regionalization
At the start of a new session of the Legislature, hundreds of "concept bills" are introduced. The vast majority go nowhere. Relatively few are taken up by a committee, many are never fully drafted.
For the past several years, one such recurring concept has to do with school regionalization. Emerging from the audience, newly-elected State Senator Ceci Maher said she isn't hearing anything about it in the Legislature, but has already voiced her opposition.
Around the country, said Mr. Imber, "nothing makes communities crazier than talk about consolidation," even in areas where it might make sense.
Ms. Nestor reminded everyone of Governor Ned Lamont's 2019 press conference at Town Hall, which followed a meeting with leaders of nearby towns, where he categorically denied an intention to mandate regionalization or shared services. We reported on it at the time.
Sometimes "the Legislature is disoriented," said Mr. Ezzes.
Sustainability Plan
Using ARPA funds, the Town has engaged a consultant to help develop a sustainability plan. The Sustainable Weston committee is currently in the process of trying to gather ideas about priorities by using social media to invite people to take an online survey.
Engage
In closing out Speak Up, moderator Laura Smits, president of the Connecticut League of Women Voters, urged those interested in serving the community to run for office. At the very least, she said, vote.