Blaze Destroys Weston Home, Another Damaged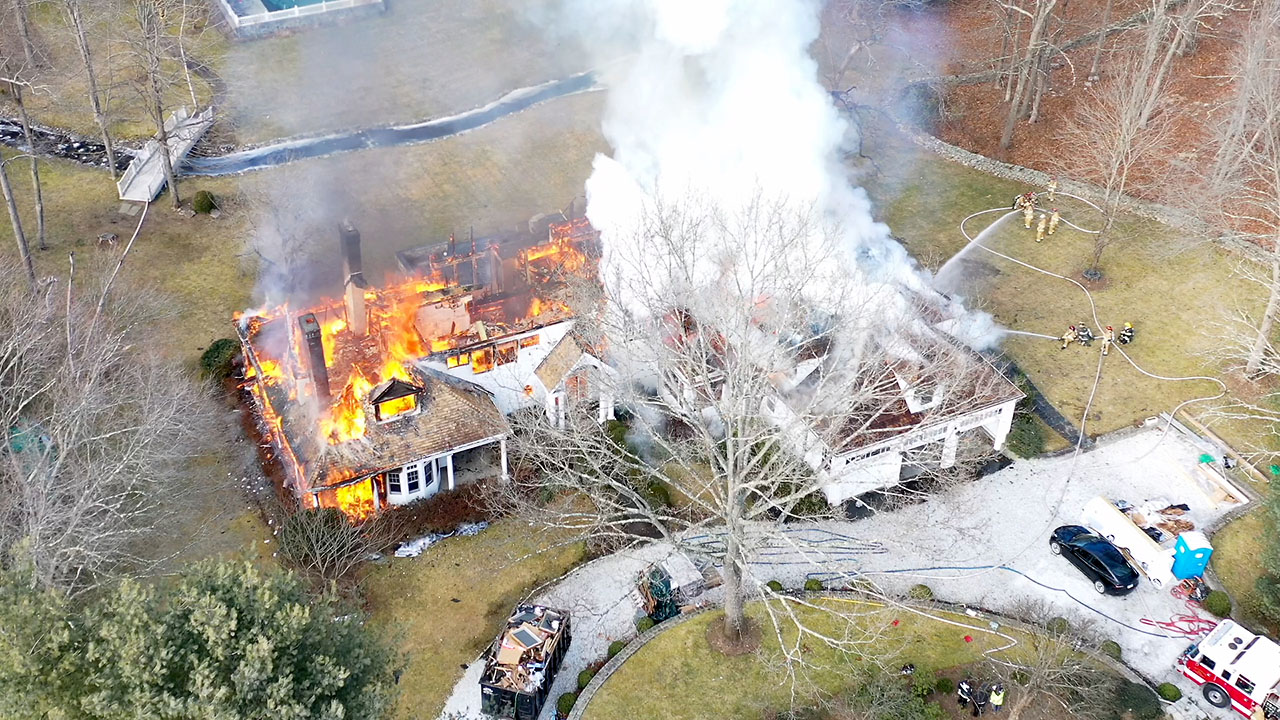 No one was injured in a house fire on Hemlock Ridge on Saturday, February 4, but the home itself was destroyed. A nearby home on Davis Hill Road also suffered "significant damage" in a fire possibly caused by drifting embers, according to Weston Volunteer Fire Department Chief John Pokorny.
The Fire Department responded to Hemlock Ridge at 1:20 pm and found the home "well involved" with fire throughout the structure.
Firefighters first attempted to gain entry to the interior, but dangerous conditions and a roof collapse made it impossible. They battled the blaze for over five hours. Crews were still on the scene well past midnight.
Chief Pokorny said firefighters also had to contend with temperatures around 12º, which caused equipment to freeze.
At 3:22 pm, an alarm activated at a residence on Davis Hill Road and a 911 call reported that the house was on fire. That blaze was attacked by fire companies already working at Hemlock Ridge and also by the Westport Fire Department.
Chief Pokorny said an "aggressive initial attack" limited the fire to a section of the residence.
Both incidents are under investigation.
Assistance
"We had a lot of help," said Chief Pokorny. "And we used everybody."
Mutual aid assistance was provided by the fire departments of Wilton, Georgetown, Redding Ridge, West Redding, and Ridgefield. Weston EMS provided standby coverage at the scene. The Westport Fire Department and Redding Fire Department provided station coverage.
"We needed a lot of water," said Chief Pokorny, so tankers from the Stevenson Fire Company, Danbury's Citizens Hose Co. 6, Stepney Fire, Trumbull Fire, and Shelton's White Hills Fire Company assisted. Easton EMS responded to provide standby coverage.
Chief Pokorny thanks Weston's Department of Public Works and the American Red Cross for their assistance on a frigid afternoon.
Aftermath