Primary Election Set for August 9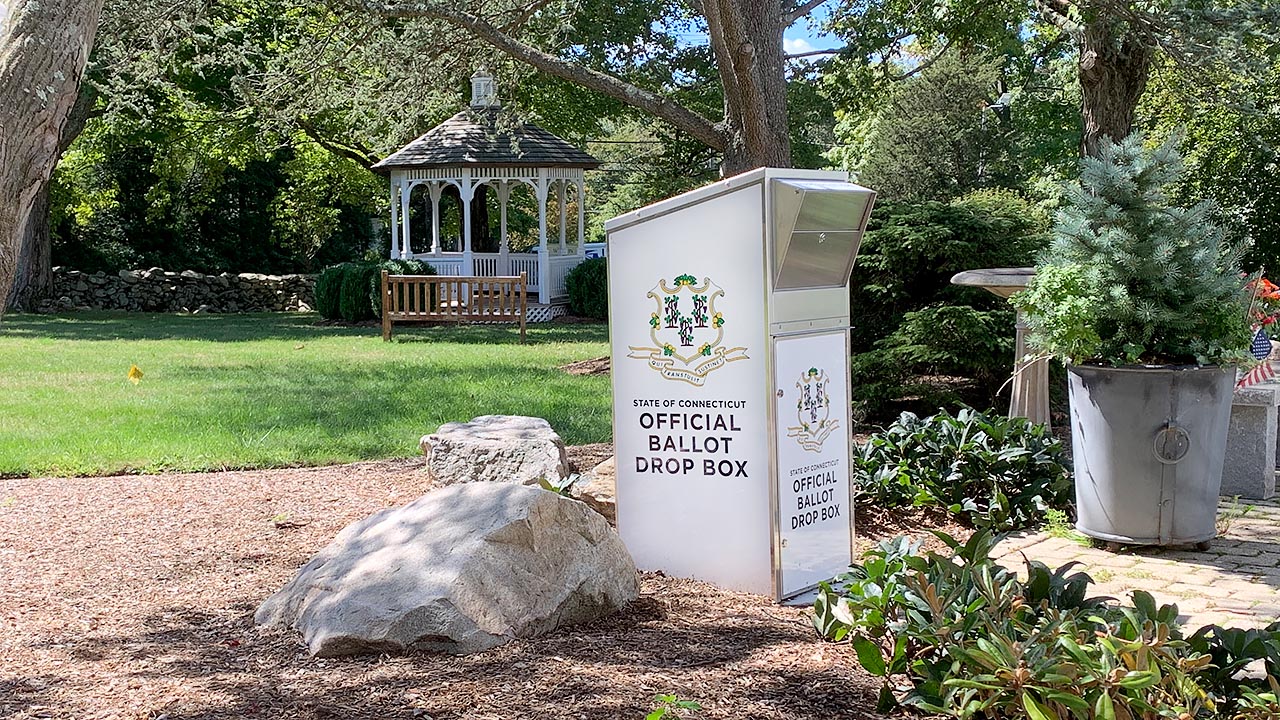 A primary election for state and federal offices takes place on August 9. Absentee ballots are available, and voter registration is still open.
On the 9th, ballots can be cast from 6:00 am to 8:00 pm at Weston Middle School. Entry to the polls is at the school's rear entrance.
Only a few offices appear on the ballot, as there were no challenges to candidates endorsed at Democratic and Republican conventions for governor, lieutenant governor, and the state legislators who represent Weston.
However, Democratic party voters can cast votes for two offices. For Secretary of the State, vacated by the retirement of Denise Merrill, the contest is between State Rep. Stephanie Thomas and New Haven health official Maritza Bond. For Treasurer, where incumbent Shawn Wooden declined to seek reelection, it is attorney Erick Russell against technology COO Dita Bhargava and Karen DuBois-Walton, a New Haven housing official.
On the Republican side, three offices are on the ballot. The candidates for the U.S. Senate seat currently held by Richard Blumenthal are former State Rep. Themis Klarides, Leora R. Levy of Greenwich, and attorney Peter Lumaj. For the 4th District Congressional seat currently held by Jim Himes, it is former Darien First Selectwoman Jayme Stevenson against Dr. Michael Ted Goldstein. Secretary of the State candidates are technology executive Dominic Rapini, Brock Weber (who recently dropped out of the race), and State Rep. Terrie E. Wood.
Below, a facsimile of what the Democratic and Republican ballots look like.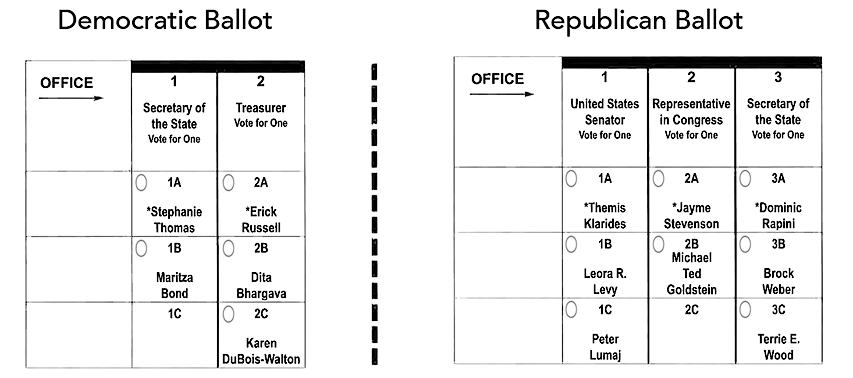 Absentee ballots
Applications for absentee ballots are available at the Town Clerk's office and can be downloaded from the Town website.
Applications can be mailed in, delivered in person to the Town Clerk, or put in the ballot box outside the Town Hall front entrance (the Norfield Road side). The ballot box is open now.
Completed ballots must be received by the Town Clerk either by mail or dropped into the ballot box by 8:00 pm on Tuesday, August 9. If you choose to deliver your ballot to the Town Clerk in person, that must be done by 4:30 pm on Monday, August 8.
Those with special circumstances should contact the Town Clerk's office by telephone or email:
Donna M. Anastasia, Town Clerk
(203) 222-2616
danastasia@westonct.gov
Shawn Amato, Assistant Town Clerk
(203) 222-2617
samato@westonct.gov
Registration
It's too late to change party affiliation, but not too late to register, or to switch from Unaffiliated to one of the recognized parties.
You can easily register online. If you will turn 18 on or before the general election date of November 8, you can register now and vote in the primary. The deadline is 11:59 pm on Thursday, August 4.
You can also download a Voter Registration Application and mail it to the Registrar of Voters at Weston Town Hall, 56 Norfield Road, PO Box 1007, Weston CT 06883.
Mail-in registrations, including those changing from Unaffiliated, must be postmarked by August 4.
You can register in person at Town Hall, with the Registrars or Town Clerk, from 9:00 am to 4:30 pm on weekdays. In addition, in-person registration is available at the Weston Public Library and the Department of Motor Vehicles. The deadline is August 8 at noon.