Weston Girls SWC Track Champs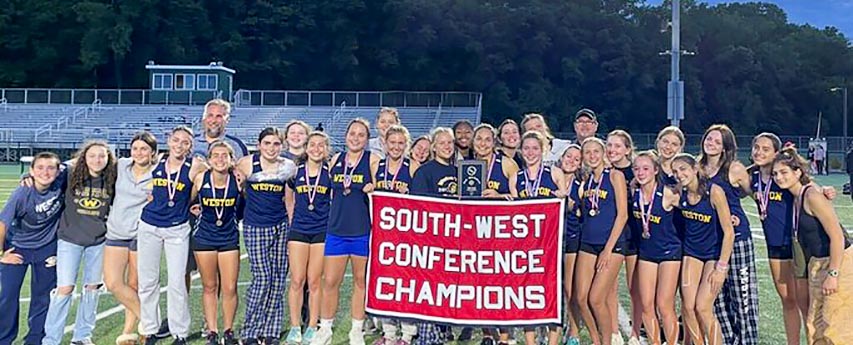 Continuing their domination of the Southwest conference track and field championship, the Weston girls won their 14th title in the last 16 years.
However, it was not without a struggle, as their perennial conference nemesis Newtown had an 11 point lead with just two events remaining to be scored.
Ellison Weiner's win in the pole vault (a class M leading 12 feet) and the 4x400 relay team's close second place finish provided the final 18 points needed to secure victory. The final score was 142 to 135. Joel Barlow took third place.
Team depth made the difference. Coach Matt Medve said, "We had many outstanding individual performances but we as a team won the championship by scoring in 16 out of 18 events."
Senior stars Shea Greene and Abby Miles had outstanding days. Greene, the state record holder in the javelin, set a new meet record with a throw of 141' 2", and will be the overwhelming favorite to win the state and state open championships. She also took second in the long jump, fourth in the triple jump, and anchored the winning 4x100 relay with a winning time of 50.7 seconds.
Miles continued her progression as a distance runner by taking third in the 1600 meters and surprising the field in the 3200 meters by winning in a new school record time of 11:11.78, which is the leading qualifying time in class M.
Brooke Wagner and Sofia Taylor joined Weiner and Greene on the winning 4x100 relay. Freshman sprinter Taylor showed she will be a force in coming years by also grabbing third in the 400 meters and fifth in the 400 meters. Wagner took fifth in the long jump and eighth in the 300 hurdles.
Four girls competed in the 800 individual meters. Rian Goertz (8th), Charlotte Carter (6th), Caitlyn McKiernan (7th) and senior Lianne Saussy (5th) also combined to win the 4x800 meters relay in 9:35.61.
School record holder Kat Tunney also had an outstanding day by winning the discus with a throw of 106' 8" and also took second in the javelin and 8th in the shot put.
Kara Seibert joined Weiner, Taylor and anchor Saussy on the second place 4x400 relay team. Thrower Sofia Zharry (fourth in both the shot put and discus) and jumper Rowan Morse (fifth in the pole vault, fifth in the triple jump, eighth in the long jump) also provided valuable team points.
Weston will next do battle with class M favorite Sheehan in the state meet on Wednesday, June 1 in what promises to be a very exciting and close competition.