Softball Team Ends Season with a Win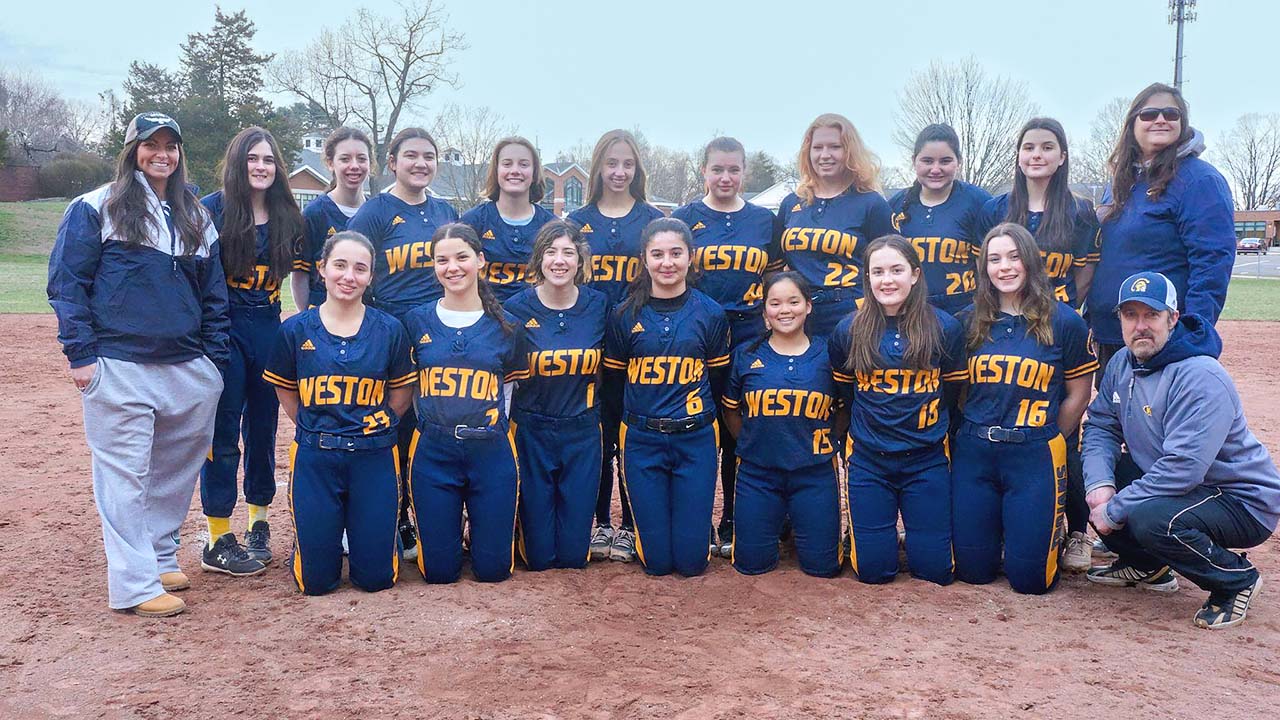 The Weston High School Girls Softball team won their final game against New Fairfield on May 20. After a season mixed with ups and downs, they ended the season on a high note with a score of 8-1.
Everyone had high spirits for one of their best games yet. Their defensive play was strong, with one of the pitchers, sophomore Anna O'Neill, making it quite difficult for the New Fairfield batters to score runs.
Anna has pitched in 16 of 20 games, started 11 games, and had 42 strikeouts throughout her season. She has one of the best averages in Weston softball history of .468 and 14 RBI (runs batted in) as well.
The softball team has been playing consistently since their 2020 spring season was canceled. In this season, they scored approximately 132 points across 20 games.
Head Coach Stacie Reisner hopes to build off of this season for next year and beyond. "Although we will be losing our seniors, they have left the team in great shape," she said. "We have an exciting future with a young core of talent, pitchers, infielders, and outfielders. I have no doubt that if we can continue to grow and develop throughout the offseason, we can make the SWC playoffs and States and be a force in each of them."
The seniors on the team are Maya Albright, Lola Connelly (captain), Julia Constantine (captain), Maddy English, Jordan Gladstone, Makenzie Lehman, Zephyr Parker (captain), and Nicole Satanovsky (captain). They are leaving behind a promising team of players.
Among them is Abby Geraghty, a sophomore first baseman who has a .971 fielding percentage and 99 putouts in 103 chances; Emma McCarthy, a junior catcher who has caught for 101 of out 127 innings and batted .214 with 16 hits in 17 games played; and Natalye Lustberg, a junior center fielder who had the most stolen bases on the team and a .930 success rate. Natalye has also batted .377 with 15 runs scored and 11 walks.
To be successful in the future, Coach Reisner emphasizes the importance of putting in the time to train before the season starts. "Some of the most successful players we have had at Weston are players who put in the time, work, and dedication to the sport before the season begins."
Julia Constantine, one of the captains, has seen her hard work and dedication pay off with training during the offseason. Julia amassed a 0.500+ batting average, including 28 hits in 13 games. She also broke up a perfect game by hitting a triple and scoring a run against Masuk, the top team in their SWC conference. Julia's success did not come overnight. On top of her high school softball practices, she did strength and conditioning at an independent training center and played for a travel softball team in the fall and summer.
Julia and the other seniors are leaving behind a legacy for a group of talented and dedicated girls who hope to see the success they are building for bear fruit in the future.