Girls Golf Team Aims for the Championship Tournament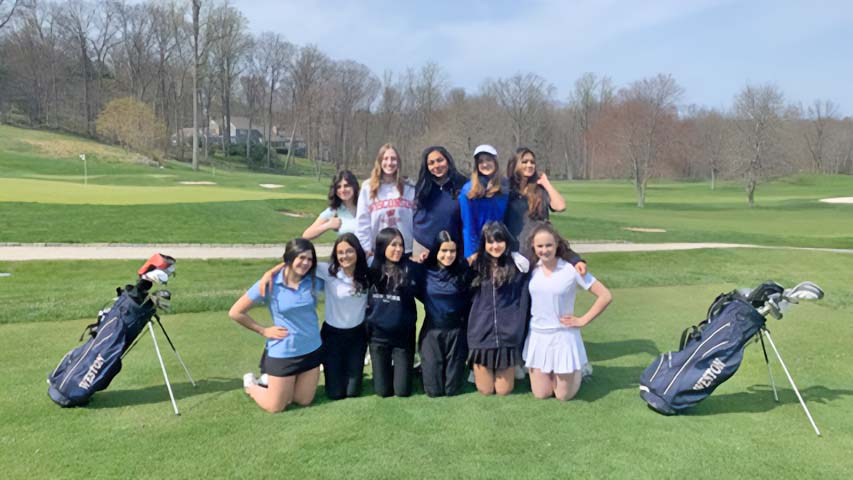 Weston High School's Girls Golf team prepares for their next match against Stratford and Immaculate at the Fairchild Wheeler Golf Course on Tuesday, May 24. They are right at the edge of qualifying for the championship tournament, and this upcoming game will dictate whether they will have the opportunity to do so.
The team, composed of four freshmen, five sophomores, one junior, and one senior, shows much potential despite the inexperience at the beginning of the season. Head coach Jason Akacki said he knew this year would be a rebuilding season after the team said goodbye to seven graduating seniors in 2021.
"Practices have been heavily geared towards the short game," said Coach Akacki. "The only way to score low is to be a master on and around the green."
The game of golf is fickle and requires patience, awareness, and sound visualization. Players learn to read the green and understand the balance between speed, strength, and technique when hitting the ball. But in the high school league, there is also an emphasis on having fun as a team.
Training and commitment
So far, the team's training and commitment seem to be paying off. As of May 16, the team's score on the Aspetuck Country Club course is 244, compared to more than a month ago when their score was 268.
On the individual level, junior Luana Dovolani and sophomore Kaitlyn Smith are two players who have shown immense skill and are also competing for individual qualifying spots in the SWCs. Luana recently had a personal record of 46 at the Aspetuck course, and Kaitlyn had a personal record of 52 at the Whitney Farms Golf Course. The captain, Keona Patel, is a four-year starter who continues to show improvements on the course as well.
Though the team is gearing up for their final matches, Coach Akacki is excited for the future of their program and has a few pieces of advice for anyone planning on joining the team.
"Get out there and play as often as you can," he said. "Hit in your backyard, play a round with friends or family, head to the range, play a round of mini-golf, or join a golf camp. Any of these activities help develop the necessary hand and eye coordination and muscle memory needed for success."
The Girls Golf team said they would like to thank Aspetuck Valley Country Club, which has welcomed them with open arms and continues to accommodate them during their season.