The Real Dogs of Weston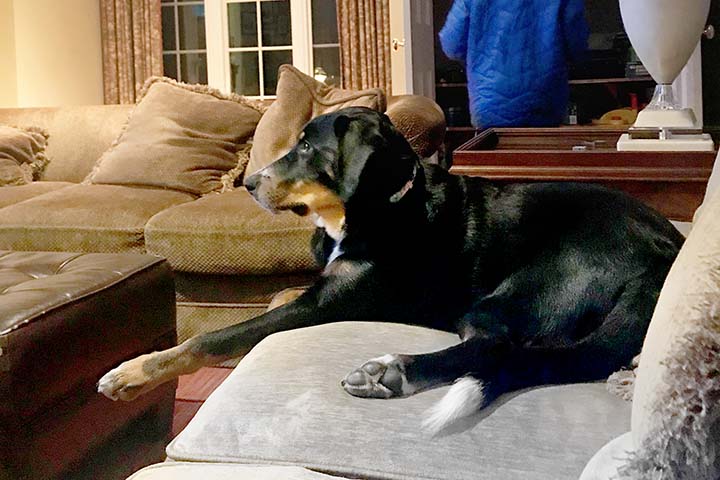 A column just for Weston's canine citizens, sponsored by Passage East Kennels.
Each week, we'll introduce you to a pawsome dog neighbor as well as donate $10 to a local rescue group or animal shelter chosen by their humans. To be featured, please email passageeastwilton@gmail.com.
There's always room for S'mores! With her black, white, and brown coloring and super sweet personality, "S'mores" may be the most fitting name ever for this one-year-old Swiss mountain dog/lab mix. Cute, cuddly, and just a little bit naughty, her puppy shenanigans never fail to make Weston's Wallace family (mom Leslie, dad Dave, human brothers Josh & Sean, and guinea pig siblings Nana, Happy, & Sally) smile. S'mores loves her dog friends and is good pals with Chip, another Real Dogs of Weston alumni. Special thanks to big brothers Josh and Sean for helping write the column this week!
Name: S'Mores.
Breed: Swiss lab mix.
Age: 1 year old.
How We Met: "We got her last summer after losing our 11 year old very well loved yellow lab (Tucker). We found a picture of her on a rescue site and it was love at first sight. She was being fostered with a family and other dogs. When we picked her up to meet her for the first time she was so small!"
A Few of Her Favorite Things: "Doing puppy sprints, playing with dog friends, eating shoes & food off tables (when being naughty), and playing outside with people."
Not a Fan of: "Getting yelled at, being caught in the middle of doing something wrong (eating food off tables)."
Favorite Spot to Snooze: "Everywhere. Soft beds, couches, ottomans, blankets."
Special Talents: "She can open doors, she can shake paws, and she loves to make everyone laugh when doing crazy sprints."
What She's Our Best Friend: "She's super cute when she is tired and gets snuggly with all of us."
Donating to: East Coast Canine Rescue.
Passage East is a Weston family business owned by Joe & Laura Kaddis for nearly 20 years. We offer compassionate & professional boarding, grooming, and daycare for dogs of all breeds at our spacious, 4 acre retreat in Wilton's Cannondale neighborhood. Born out of a passion for animal rescue, we proudly work with and support local groups to help dogs in need.
Passage East Kennels
499 Danbury Road
Wilton, CT 06897
(203) 762-7998
www.passageeastkennels.com